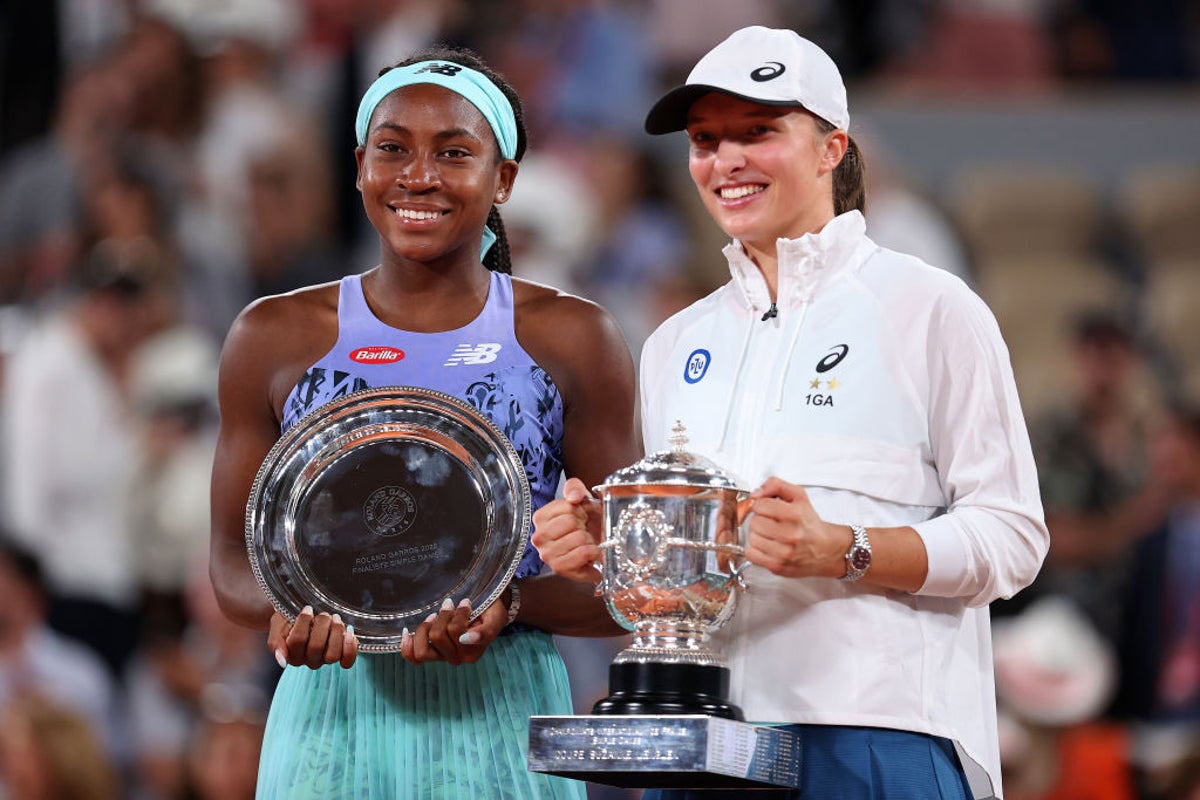 The French Open will have a new men's champion this year, with 14-time singles winner Rafael Nadal absent from Roland Garros for the first time since 2005.
Nadal became the oldest French Open champion in history by winning on Paris clay last June, but has been sidelined this year with a hip injury.
Novak Djokovic, Carlos Alcaraz and Daniil Medvedev will be top contenders to take Nadal's title – while in women's singles Inga Swiatek aims to complete a French Open hat-trick as she begins the defense of her crown.
Swiatek has been handed a tougher draw, however, with Aryna Sabalenka and Elena Rybakina also among the favorites in Paris. But how much is this year's French Open prize money? And how does it change from cycle to cycle? Here's everything you need to know.
french open prize money
According to the French Open, the total prize money for this year's Roland Garros is around £43m (€49.6m).
It sees a growth of 12.3 percent by 2022.
The prize money is distributed equally between women's and men's singles, as follows:
the champion – £2m (€2.3m)
runner up – £1m (€1.15m)
semi final – £550,000 (€630,000)
quarter finalists – £350,000 (€400,000)
Round 4 – £200,000 (€240,000)
round 3 – £125,000 (€142,000)
Second Round – £85,000 (€97,000)
round 1 – £60,000 (€69,000)
how to watch french open 2023
You can watch the French Open live on Eurosport in the UK. The action will be broadcast on Eurosport's TV channels, or fans can tune into Discovery+ to stream the tournament, where an Entertainment and Sport Pass is available for £6.99/month or £59.99/year.
Watch every moment of Roland-Garros live and exclusive search+Eurosport and Eurosport App
french open 2023 tournament schedule
Sunday 28 May Men's singles, women's singles – Round 1
Monday 29 May: Men's singles, women's singles – Round 1
Tuesday 30 May: Men's singles, women's singles – Round 1
Wednesday 31 May: Men's singles, women's singles – Round two
Thursday 1 June: Men's singles, women's singles – Round two
Friday 2 June: Men's singles, women's singles – third round
Saturday 3 June: Men's singles, women's singles – third round
Sunday 4 June: Men's singles, women's singles – Fourth round
Monday 5 June: Men's singles, women's singles – Fourth round
Tuesday 6 June: Men's Singles, Women's Singles – Quarterfinals
Wednesday 7 June: Men's singles, women's singles – quarter-finals
Thursday 8 June: Women's Singles – Semi-finals | mixed doubles final
Friday 9 June: Men's Singles – Semifinals
Saturday 10 June: Women's Singles Final | Men's Doubles Final | wheelchair finals
Sunday 11 June: Men's Singles Final. Women's Doubles Final