A couple found guilty of the "savage and brutal" murder of their 10-month-old son on Christmas Day have been jailed for life.
Finlay Bowden died 39 days after a family court ruled that he could return to the care of his parents, Stephen Bowden, 30, and Shannon Marsden, 22.
Derby Crown Court heard how Finley had been subjected to "significant, substantial and repeated acts of serious violence" in the weeks before his death. He was beaten and burned and died on Christmas Day 2020 with 130 injuries.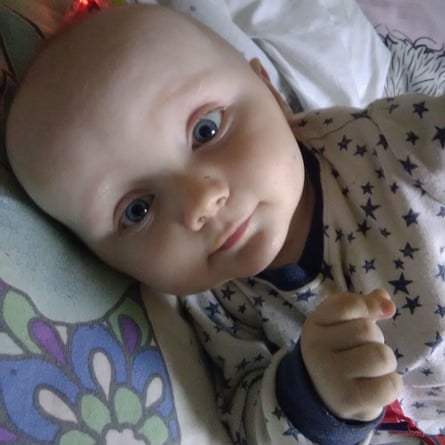 on Friday, Mrs. Justice Tipples Bowden and Marsden were sentenced to life imprisonment. Bowden must serve a minimum of 29 years and Marsden must serve a minimum of 27 years.
Bowden and Marsden subjected their son to "unimaginable cruelty", the judge said. "After the injury, Finley's daily experience was one of considerable pain, distress and suffering."
Tipples said they were both "persuasive and compulsive liars" who worked together. "No one heard Finlay cry or scream in pain as you hurt him together, one of you breaking his bone and the other silencing him with a hand over his mouth."
They knew that Finley was gravely ill and subsequently dying, yet no medical assistance was sought. "None of you have shown any remorse for what you have done."
An independent serious matter review is being conducted to look into the role played by security agencies before Finley's death. Its findings are due later this year.
Both Bowden and Marsden denied murder and child cruelty. A jury found him guilty after a five-month trial in which they heard that Finley had broken almost every bone in his body.
Paramedics were called to the family home in Old Whittington, Chesterfield, after receiving a 999 call at 2.27am on Christmas Day, which reported Finley as unresponsive. He was rushed to the hospital but doctors were unable to revive him and he was declared brought dead at 3.45.
A postmortem found him with 71 separate injuries as well as two burns – one believed to be "from the flame of a cigarette lighter" – and 57 fractures to his pelvis, shoulder, ankle and ribs.
His pelvis was broken in two places, possibly from sustained "kicking or stamping", and his injuries were compared to those from a multi-story fall.
Jurors heard that Bowden had prioritized sourcing money to buy and smoke cannabis rather than looking after her son.
He was also of a violent nature, and had broken a door in the house. Texting Finley to a drug dealer two days before her son's death, she said: "I want to bounce him off the walls."
In the hospital only hours after his son's death, Bowden is heard telling Marsden that he is going to sell Finlay.'S pushchair on eBay – later telling police he only said this "in an attempt to lighten the mood".
The abuse by Finley has been described as "incomprehensible". Paul Bullock, a detective inspector with Derbyshire Police, said the injuries were "the worst I have seen in my 27-year policing career".
The judge became emotional when the guilty verdicts were delivered as she thanked the jury for their "extremely impressive" conduct, and suspended the members from jury service for life. As Tipple said, the jurors had tears in their eyes, while the defendants sat in silence in the dock.
The case has raised questions about how a child who was on the radar of social services before he was born could die in such horrific circumstances.
Bowden and Marsden were regular users of cannabis and social services became involved during the pregnancy because of the drugs, domestic violence and the poor condition of their home.
The trial heard how Finlay was made the subject of a child protection scheme and was taken into care soon after he was born.
Finley was "fit and well, safe and happy" for the first nine months of his life, prosecuting attorney Mary Pryor Casey told the trial.
Following a request for parental custody, a Family Court sitting during the Covid lockdown ordered that Finley be returned to her parents within eight weeks, and that her parents be punished for cannabis use No need to test.
Bowden and Marsden had convinced social workers that they were making a difference in their lives.
Court documents released after the guilty verdicts revealed that social workers worked to return Finley to her parents in a planned and gradual manner over a four-month transition period. But his parents wanted him back sooner. The magistrate ruled in a telephonic hearing that the transition period should be eight weeks.
The transcript of the hearing shows that the parents were told not to "take a risk" for Finley that the situation was "not manageable" or that she would need to be "excluded from their care in the future."
Following the guilty verdict, Derbyshire County Council said it expressed its heartfelt sympathies to all who knew and loved Finlay. But it said it could not comment in detail on the findings of the review of the serious matter.
Labor MP for Chesterfield Toby Perkins said he believed low funding of social services and the court system had contributed to Finley's death. He said he had heard about the high caseload of social workers in the constituency's surgery, which meant another child could "slip through the net".