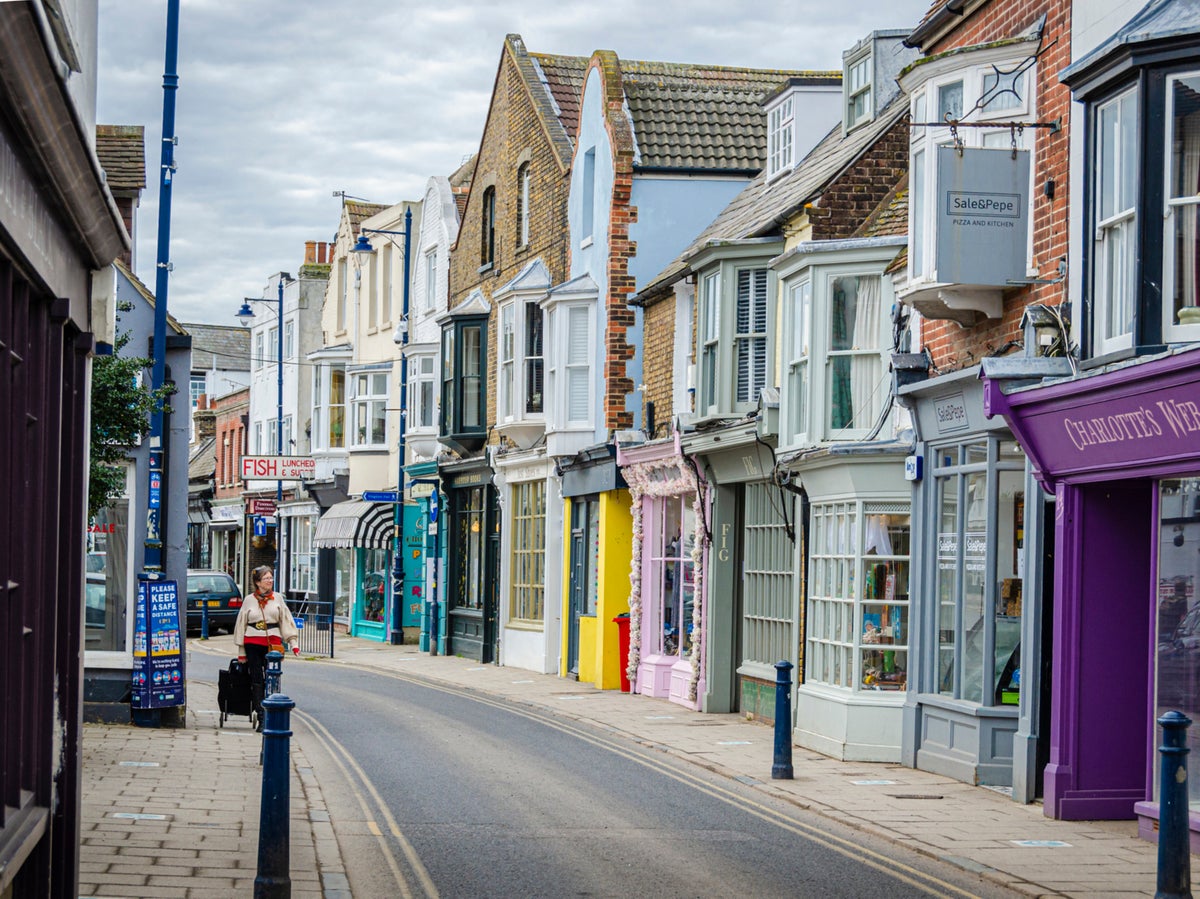 Furious residents say they are being evicted from their seaside town for vacation rentals that have "hollowed out" their community.
People living in Whitstable have expressed dismay that houses previously filled by locals are now being used by visitors to throw loud parties, block driveways, take up vital parking spaces and litter the streets.
With longtime neighbors being replaced with a constant stream of unfamiliar faces, people are feeling as though the city has been stripped of its sense of community.
People desperate to find a solution attended a meeting last Friday to discuss ways to regulate the industry, organized by Canterbury City Council's Green Party members to find a way to balance the issues with the benefits of tourism.
One woman said she "really struggles as a resident of this city" as working from home has become an impossible task with the constant noise.
Another added: "People don't care where they park – it's cheaper to pay a fine than pay for a day's parking."
People applauded when one local said that "there is no longer a sense of community".
A resident, Jonathan Hollow, said: "I've lived in Whitstable since 2006. I am in the center When I moved in there were long-standing neighbors on each side of my terraced house. There is now a second home on one side, and holiday rental properties for short-term lets on the other.
"The owner of the holiday rental property has been very considerate in his response to requests I have made, but he is not there all the time. He cannot legislate the behavior of every person who passes by his home.
"You get more noise – confusion with people knocking on your door to see if you can help them with lost keys. Sometimes litter left on the street is a problem.
"These are all casual nuisances, but generally a feeling where you know your neighbors less, resulting in a decline in community life in Whitstable.
"We need tourists but we need to find a pleasant way of living alongside tourism. I want Canterbury City Council to urgently introduce a voluntary code of conduct that owners can sign up to that sets high standards for neighborhoods does."
As it stands, a property can be used as a short-term holiday, without notice or permission.
One of the possible regulations discussed was making it so that people expecting to convert future properties in the short term would have to apply for change-of-use planning permission.
This is something the government is considering, for a new planning use class to be created that is not used as a sole or main home.
But this will only apply to new hosts and not to existing second homes that are already used as holiday lets.
Sophie Williams, 52, welcomed the idea. She said: "Because of the holiday in the next house, I initially had no idea it was happening. A man was knocking on my door because he couldn't get in. This was one of the first incidents I dealt with.
"Parties don't always happen late at night, although last New Year's Eve the party went on until 8 in the morning."
She said: "I love sitting in my garden and reading and their garden is beautifully decked out for barbecues so there are garden parties three times a week in the summer. It's annoying and makes me not want to be there .
"I think they should pay council tax because they have taken away a property that should be residential."
According to rough figures obtained by Councilor Claire Turnbull, Canterbury City Council could lose out on revenue of around £500,000.
This is because hundreds of holiday lets in Whitstable are not registered for council tax nor pay commercial rates.
At the meeting, people voted in favor of introducing a council tax for owners of second homes and holiday lets. Some believe the tax should also be doubled for people with second homes – a move being considered by councils running tourist destinations across the country.
Limiting the number of nights per year a property could be rented out was also suggested, among other ideas.
Welcoming the rules, resident Jo Taylor thinks they need to be tougher, saying: "This is not a witch hunt. We still want people to come here for their holidays but residents Also it should be a good place.
"We have quite a few holidays that line our street and people are coming and going all the time. You don't know who these people are. At least when you have neighbors you recognize who Is.
"Because there are too many holidays and not enough family homes, you don't see many people in winter, so the community is missing out in a big way.
"A lot of the shops close in the winter, the restaurants close, people in the shops charge less because we're a seaside town and not as many people live here."
She said: "The suggested rules are a bit too 'light touch', they need to be more dynamic and empowering. Those who own the holiday need to be more accountable for what goes into them.
"We should be able to know how many assets we're dealing with because we're saying all this, but we don't know the full facts. I'd like to see more meetings like this so we can take a deeper look at where we can get that." How to achieve balance.
Another person, who asked to remain anonymous, said: "The holiday means there are fewer rental properties for young people and families. The houses that are left are not affordable by any local as rents keep up with demand. are touching the sky.
"People are moving further away so they can survive."
Rebecca Sewell of Tankerton runs a house-keeping business, Hellos, and makes about 70 percent of her income through holiday lattes.
While she supports the industry, as a local she also welcomes the regulations.
The 49-year-old said: "While I am concerned about people having affordable homes to live in the area, I have also expressed interest in staying here on holiday. Housekeeping jobs provide income for local people and the city. They are special typically help women return to work after giving birth.
"Holidays have driven up rental market prices, but the flip side is that it provides work. I can see both sides so I came to the meeting to see if there was a way to balance .
The neighbors weren't the only ones who were concerned.
A man who let out his spare room to tourists while he was still living in his home also welcomed the regulations. But he realized that for a set-up like his he needed to be on a different scale.
Most agreed that these types of lays are more durable and cause less problems for the city. As a result, the majority-agreed rules for these types of lattes should not follow such strict rules.
The meeting was organized following an online consultation sent to residents in September to ask for their views.
While emotions ran high from people desperate to find a solution, there was also a sense of hope that a balance could be found. Residents' feedback and views on the proposed regulations will be added to the next stage of consultation at the local and national level.
Cllr Turnbull said: "People made a strong contribution to the ideas behind the registration scheme and the changes to the use and regulations. It is a widely emotive issue and I think the main point was about the community.
"What had been a close-knit, really vibrant town, being hollowed out by the holiday, was inhabited by young families with children attending local schools before people were taken home.
"It is driving people out of the city which is very sad. People who want to live in the city who have always been here cannot find rental property or can buy because the prices have gone up a lot.
"Recognizing that this is such an important issue in Whitstable, it is due for the council to set up a working group on this issue. I am going to make sure that they complete this working group and that they take this issue seriously. "
Labor councilor Pip Hazelton, who has recently been appointed as New-Look City Council's cabinet member for housing, said: "We want to make affordable housing available to local families as much as possible.
"We understand we need to balance this with tourism. We will set up a cross-party politically balanced working group to look at how we do this as soon as possible. , there will be an opportunity to delve into government guidelines and legislations.
"There isn't an easy answer. What we don't want is communities being hollowed out and destroyed by allowing holidaymakers. People are seeing homes as investments to be exploited rather than homes for local people "
swns