A driver was taken into custody after a truck crashed into a security barrier near the White House on Monday night, officials said.
The white U-Haul box truck crashed into barriers on the north side of Lafayette Square, at 16th Street, just before 10 a.m. ET.
The Secret Service said the incident, which happened just a few hundred feet from the White House, may have been intentional. Investigators recovered a Nazi flag from the scene.
"No Secret Service or White House personnel were injured, and the cause and manner of the accident is under investigation," Secret Service communications chief Anthony Guglielmi said in a statement Monday night.
Guglielmi later said in a statement posted to Twitter that the truck was deemed safe by Washington DC police and that "a preliminary investigation suggests the driver may have intentionally struck the security barriers."
Guglielmi said that the United States Park Police would file charges with investigative support from the Secret Service.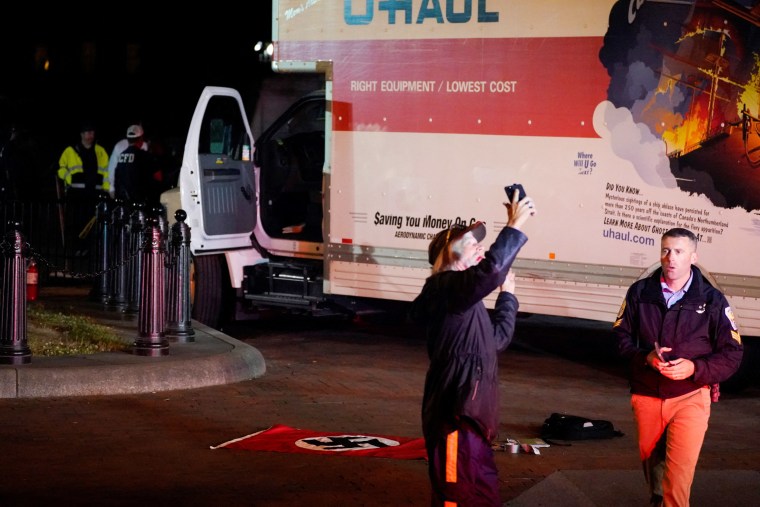 Reuters news agency published a photo showing a Nazi-style red flag with a swastika placed on the floor next to the van. Reuters, citing its own photographer and a witness at the scene, reported that this and other evidence apparently taken from the truck had been placed on the pavement and then confiscated by authorities.
Officials have not commented on the flag. NBC News has contacted the Secret Service for comment.
Video footage later showed a robot opening the back of the truck, which appeared to be empty.
A spokesperson for the nearby Hay Adams Hotel told NBC News that guests were asked to vacate the building but were allowed back at 1 a.m. ET Tuesday.
The exact whereabouts of President Joe Biden at the time of the incident was unclear. He met with House Speaker Kevin McCarthy on Monday night at the White House to discuss the debt ceiling.