The Freedom of Russia Legion, which defends Kiev against Vladimir Putin's invasion, has released a video it says shows Russian soldiers being intimidated during their brazen cross-border incursions.
The clip, shared on his Telegram channel, is claimed to be the first video of the operation in Russia's Belgorod Oblast and says it shows "the cowardice and unprofessionalism of Putin's troops".
The army on Monday claimed to have seized villages in Belgorod which Moscow said were operated by a Ukrainian "sabotage group", which clashed with Russian troops.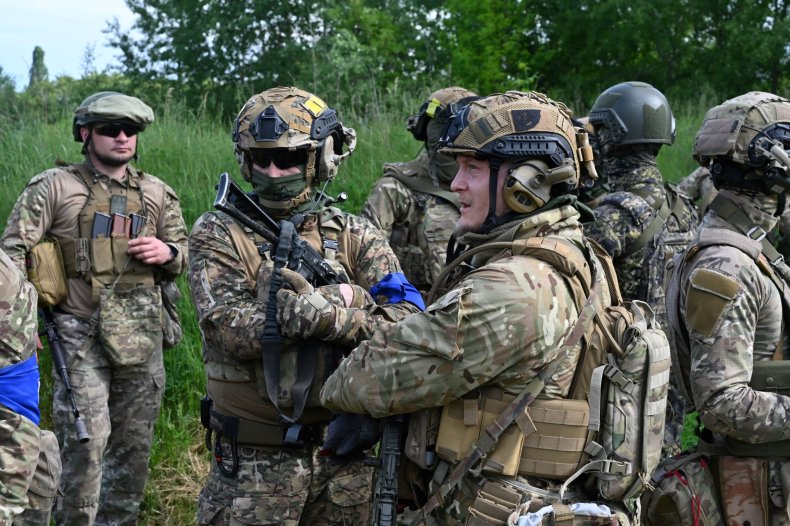 Ukraine has denied any connection with the daring raid, for which another anti-Kremlin militia, the Russian Volunteer Group, has also claimed responsibility.
The video, lasting one minute and 52 seconds, begins with a scene-setting horizon shot captioned "Belgorod region" before segueing into the interior of a military vehicle, which appears to be members of the military driving along a road in an unspecified location. There are
The drone footage shows overhead what is described as an "enemy BMP-2" military combat vehicle and then the clip shows a residential home. A caption says that personnel of a Russian motorized rifle company "look for a place to hide in abandoned residential buildings of local residents."
"Having a numerical superiority, acting on territory familiar to them, the troops of the RF Armed Forces were hiding in panic under landings and barricades," the telegram post said.
The video purportedly shows shelling at the site where Russian personnel were hiding and attacking their equipment.
"They wanted to play hide-and-seek, but our gunners play better," it said, adding that footage showed "destroyed and damaged equipment that will no longer take to Russian streets to destroy Ukrainian cities."
The clip has not been independently verified, and newsweek has contacted the Russian Defense Ministry for comment.
Whereas Russia Claiming to have gained control of the situation by Wednesday, the army described the operation as successful and said it had captured a large amount of equipment and taken prisoners.
"We will come again, Bryansk, Kursk, Voronezh, Rostov, Moscow – wait for us," it said in a Telegram post on Thursday.
This comes amid a report that Russia's Interior Ministry building in Belgorod Oblast was hit by a drone strike. The Baja online news outlet reported that a drone dropped an explosive device on the migration department building in Meski village on Friday.
Meanwhile, earlier in the day, regional governor Vyacheslav Gladkov said a drone-dropped explosive device damaged a building belonging to state-owned energy company Gazprom.