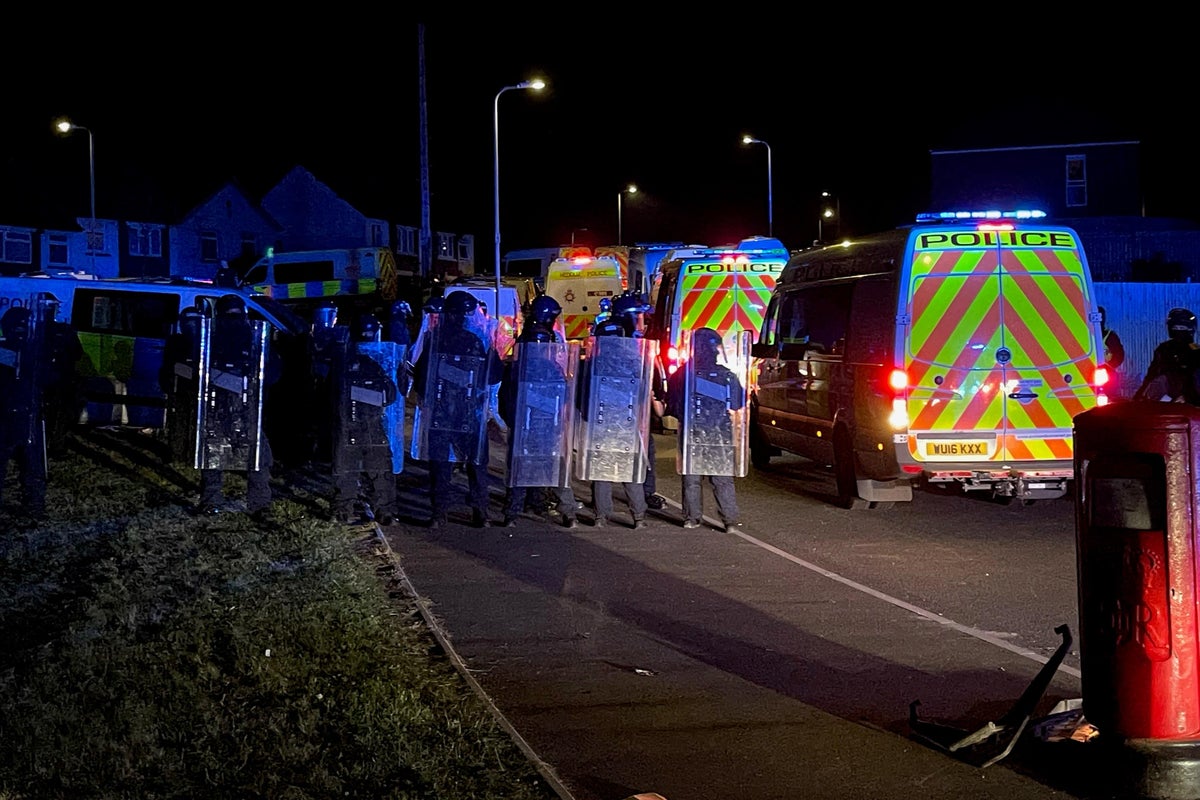 Police officers at the scene of a serious road traffic collision in Cardiff suffered "massive disorder", with rioters hurling missiles including fireworks at them.
At least two cars were set ablaze as the event continued for hours, involving hundreds of youths, many of whom covered their faces with masks.
Officers were called to the scene of the crash on Snowden Road in Ely shortly after 6pm on Monday, and rioters were still in the streets nine hours later.
Visuals being livestreamed on YouTube showed young people throwing fireworks and other missiles at a line of police officers with riot shields who were blocking one end of the street.
The fire was burning and a helicopter could be heard hovering overhead.
Shortly before midnight, a car was set on fire and burnt to the ground, while the other vehicle was overturned and set on fire.
According to one of the senior officers present at the scene, a member of the public was attacked by rioters thinking he was an undercover officer.
The public was warned that the road was closed between Wilson Road and Jackson Road and urged to avoid the area.
At 8.21pm, South Wales Police tweeted: "A large number of officers are now working to manage the confrontation but also to reduce the ongoing disorder at the scene.
"We urge everyone involved to leave the scene immediately and ask local residents to stay away until the matter has been brought to a safe conclusion."
An hour later, police said emergency services remained at the scene and reiterated the importance of people staying away from the area.
The force said: "Please refrain from speculation – we will bring you the latest details as soon as possible – all our updates must be factual."
At 11.15pm, South Wales Police gave a further update that officers remained at the scene to manage the "massive disorder".
It added: "Officers remain at the scene to manage the large scale disorder. Again, we urge anyone involved or witnessing this to leave immediately. We understand the concern of local residents and we ask you to stay indoors."
Police, including officers on horseback, were seen outside Ely police station in the early hours of Tuesday after it was suggested it could be targeted.
Shortly before 3am, rioters in Ely moved onto Highmead Road, pursued by police who tried to disperse them.
Rioters continued to throw missiles and set cars on fire.
A resident of Highmead Road, who did not want to be named, told the PA news agency: "Enough is enough. It has moved on.
"When people are making fun of what is happening on social media then it has crossed a limit.
"This is our neighborhood and the only people doing this are kids. This needs to be stopped.