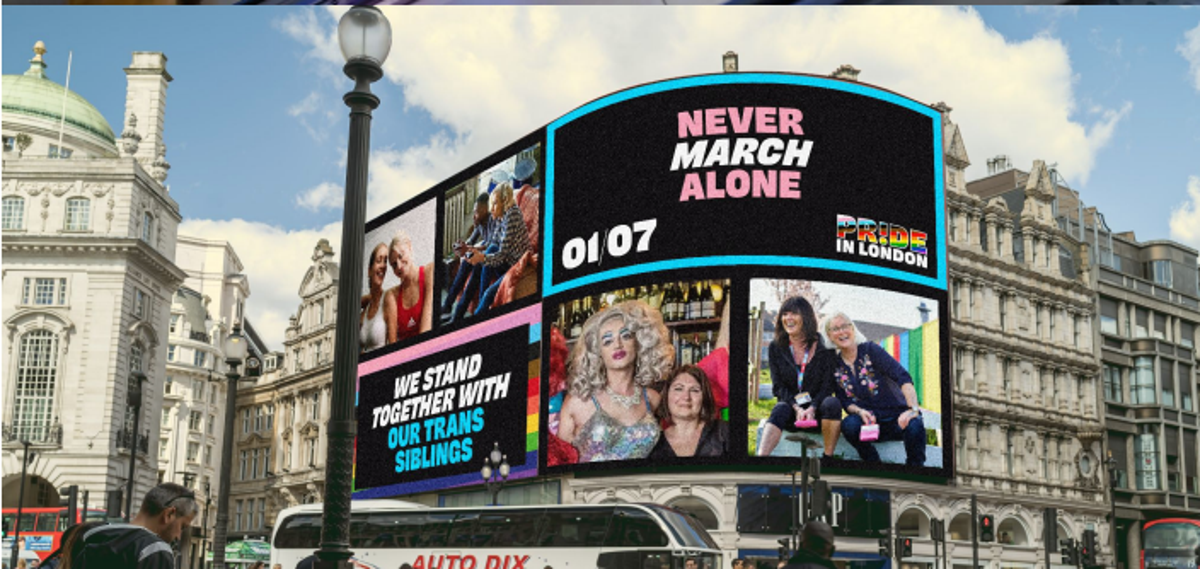 Pride in London has unveiled its 2023 campaign which aims to support trans and non-binary people in the face of growing hostility.
Its campaign, Never March Alone: ​​Championing Trans Allegiance, comes as there is a 56% increase in hate crimes targeting transgender people between 2021 and 2022.
The work was developed with trans advocates including Mz Kimberly, Hannah and Jake Graf and Dani St.James and includes photographic and video portraits of trans and non-binary community members and those who stand by them.
It will run ahead of Pride of London on Saturday 1 July.
Mayor of London Sadiq Khan said: "The marches of solidarity and celebration have helped to transform our society and I am delighted that this year's campaign will be in support of the capital's trans and non-binary community.
"In London you are free to be who you want to be and to love who you want to be loved, and in July over 1.5 million people will once again take to the streets to convey that message to the world."
Christopher Joel-DeShields, Chief Executive of Pride in London, said: "Pride in London is much more than a celebration of our vibrant community; It is a powerful gathering that fosters unity and support. Amidst the adversity faced by the LGBT+ community around the world, we want every trans and non-binary person to feel the unwavering solidarity we provide. You are not alone – we stand with you."
Hannah Graf said: "Jake and I were delighted to be able to help shape Pride in London's 2023 campaign and it was of course of paramount importance to us that all aspects of our community were included. With the recent influx of transphobic headlines and commentators, the trans and non-binary community needs support more than ever.
"Never March Alone is a powerful message that puts people at the center, while also celebrating the rest of the community and their important supports and allies."
Those who wish to support the work of Pride in London can donate to The Unity Fund, a rewards program designed to support grassroots charities and organizations that make a difference to the lives of LGBT+ people across the capital wants to improve.