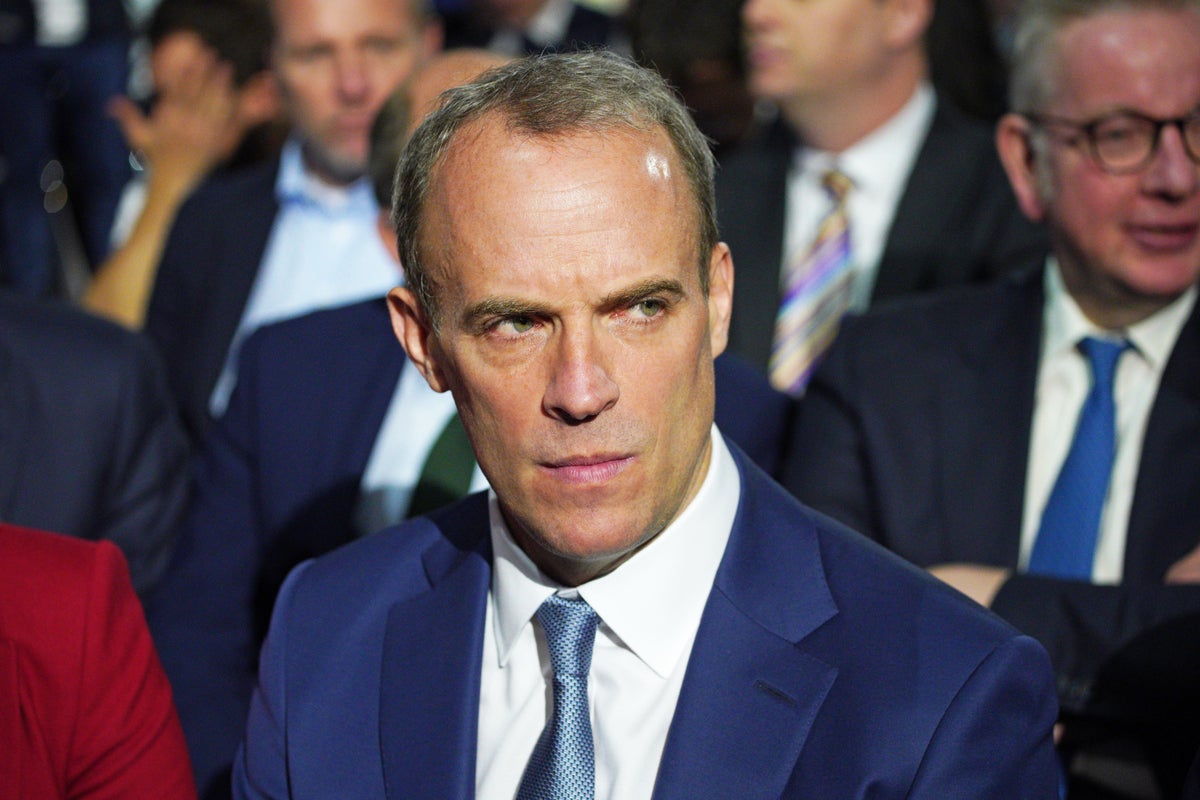 The fight also took place after Dominic Raab resigned as deputy prime minister, claiming a damaging report threatening civil servants was finally published.
The British people will pay a price for what the former justice secretary said was a "Kafkaesque saga". In an impressive resignation letter, Mr Raab, who has denied the allegations of bullying, said he felt "duty bound" to accept the outcome of the inquiry.
But he also took aim at the inquiry, calling its findings "flawed" and saying it had set a dangerous precedent by setting "so low" a threshold for bullying.
Some 10 sources, including his own ministers, said the prime minister had not asked his deputy to resign, despite Mr Sunak's overnight criticism over the delay in deciding his fate.
The findings of Adam Tolley Casey's independent inquiry arrived on the PM's desk on Thursday morning, but initially the findings were not forthcoming.
Labor leader Sir Keir Starmer accused Mr Sunak of "indecision" and "weakness". "Why didn't he fire her?" He asked.
But the prime minister also faced an almost immediate backlash from his own backbenchers over Mr Raab's controversial departure.
A Tory MP tweeted in response to Mr Raab's letter: "We are not a serious country".
In his letter, Mr Raab claimed the report's findings would "encourage spurious claims against ministers" from within Whitehall.
The investigation had dismissed "all but two" charges against him, he said.
and she suggested that he had been the victim of a witch hunt.
He said he had raised "a number of irregularities that came to light during this inquiry" with Mr Sunak.
"These include the systematic leaking of skewed and fabricated claims to the media in violation of the rules of investigation and the civil service code of conduct, and the forced removal by a senior official of dedicated private secretaries from my Ministry of Justice's private office," he said last year. In October. I hope these will be independently reviewed," he wrote.
In a stout defense of their actions, he said that ministers "must be able to exercise direct supervision in relation to senior officials on important negotiations conducted on behalf of the British people, otherwise the democratic and constitutional principle of ministerial responsibility will be lost."
This was particularly true during his time as foreign secretary, he said, when "in the context of Brexit negotiations on Gibraltar … a senior diplomat breached a mandate accepted by cabinet."
He added: "Second, ministers should be able to provide direct critical feedback on briefings and submissions to senior officials in order to set the standards and drive the reform that the public expects of us. Certainly, it should be done within reasonable limits.
"Mr Tolley concluded that not once, in four and a half years, did I swear or yell at anyone, let alone throw anything or otherwise physically threaten anyone, nor did I intentionally try to humiliate anyone.
"I am truly sorry for any unintended stress or guilt any official may feel as a result of the speed, standards and challenge I have brought to the Ministry of Justice. However, this is what the public would expect from Ministers acting on their behalf. Is." ,
But he added: "I called for an investigation and pledged to resign if there was any finding of bullying. I believe it is important to speak up."
Tory MP Philip Davies agreed with Mr Raab, saying the findings would encourage "fake complaints against ministers".
But Sir Keir accused Mr Raab of "crying". He added: "I don't know why Dominic Raab, in the midst of a life-threatening crisis, thinks anyone wants to hear about his complaining about resigning." I think everyone wants strong leadership and that has been conspicuously absent here.
The deputy PM has been under investigation since November over eight formal complaints about his behavior as foreign secretary, Brexit secretary and his first term as justice secretary.
Mr Sunak ordered Mr Tolley to launch an inquiry following widespread reports of unnamed civil servants describing his behavior as bullying.
Mr Raab was accused of tear-gassing or throwing up employees before meetings. The minister was also accused of eating Pret-a-Manger tomatoes in a "fit of anger" – a claim he denied.
FDA civil service leader Dave Penman said some staff who worked with the senior Tory minister had suffered a "mental health crisis" and were forced to quit and downgrade because she was too difficult to work with. Had to happen
Mr Tolley is said to have been "thorough" in his handling of the investigation, interviewing Mr Raab several times and taking written evidence from or speaking to a number of other senior people.
Senior officials in the Ministry of Justice (MoJ) were said to be preparing to quit if the PM chose to keep Mr Raab in government because it would be "disappointing" for staff.
One official said, "If he stays in the department, the seniors will want to move." Guardian, Another said some would be ready to leave "in the near future".
On Wednesday it emerged in the heavily delayed register of ministerial interests that Mr Raab had abandoned his legal team to defend himself against the allegations.
The decision to pay for his lawyers came despite him piling up an estimated £222,000 bill for Boris Johnson's legal fees in the Partygate inquiry into whether he lied to MPs.
Mr Sunak said in November that he "does not know and do not know of any formal complaints about Dominic's behaviour" – but declined to say whether he had met Mr Raab before appointing him. Knew about informal warnings about.
Follow up on this breaking news story for more