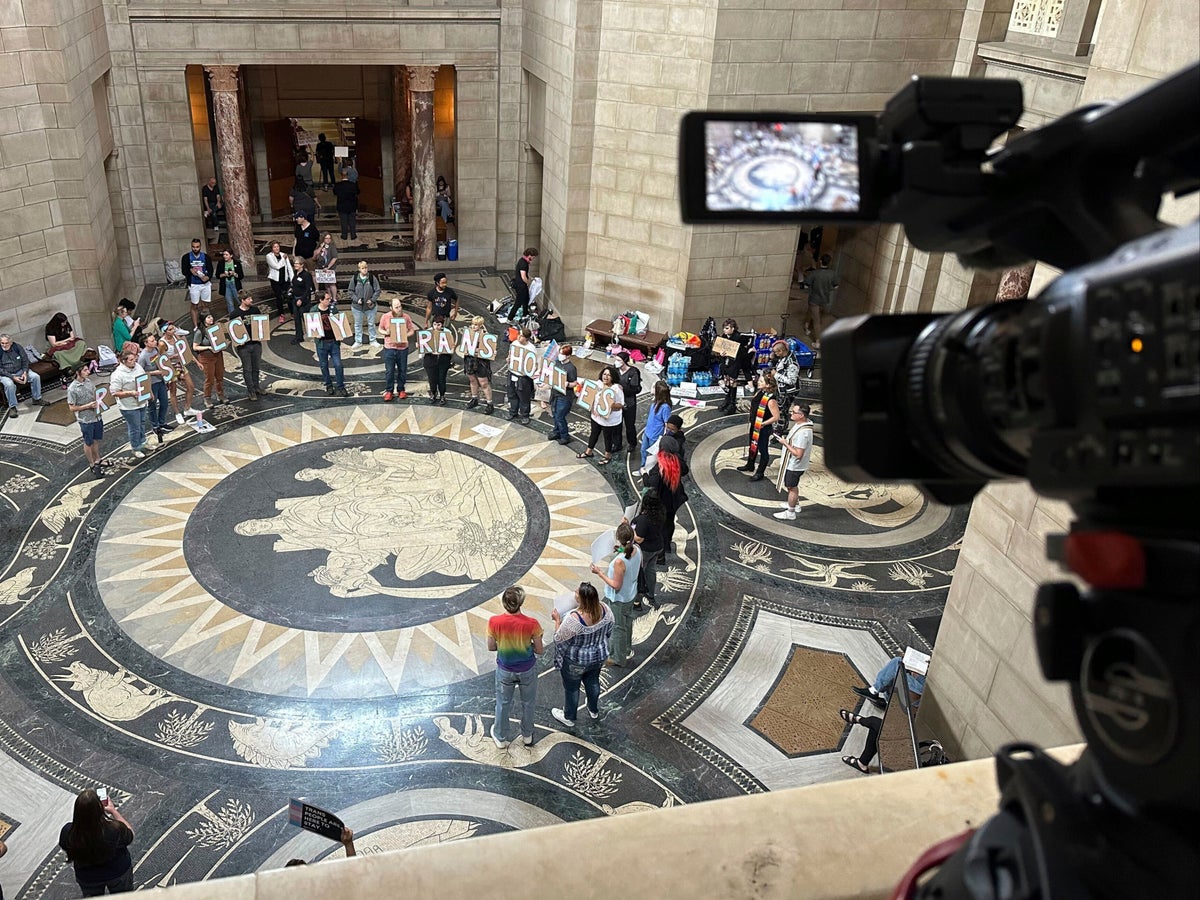 Republican state legislators in Nebraska rumbled through a controversial bill restricting abortion and transgender healthcare last week with the help of a sick colleague who had just been released from the hospital.
State GOP senator Julie Slama confirmed Friday that she was receiving treatment for hyperemesis gravidarum, a serious complication of pregnancy, but arrived at the statehouse in time to cast the deciding vote.
Earlier that day, Nebraska Examiner reporter Paul Hummel posted a photo of him looking "obviously ill" as allies on both sides of the debate stood around him to shield him from TV cameras.
According to Hummel, Ms. Slama cast the crucial 33rd vote that allowed the bill to overcome a months-long filibuster by progressive senators that had brought Nebraska's unicameral legislature practically to a standstill.
The bill, signed into law by Governor Jim Pilsen on Monday, bans abortion after 12 weeks of pregnancy, starting immediately, and all gender transition healthcare for trans people under the age of 19 starting in October. .
"I was admitted to the hospital today with Hyperemesis Gravidarum," Slama tweeted Friday evening.
"To vote and return it on the most divisive bill of the entire session.
"Everyone put aside their differences and joined a wall to keep my illness away from the cameras. 'Gratitude' doesn't even begin to cover it," she said.
In another tweet on Saturday morning, he said, "Do I like this [the photo] out there? No, but sometimes in government, private fights end up in public. I shared to address questions about my health, but also to give credit to my colleagues for their kindness, especially Machella Cavanaugh."
That last name was notable because Ms. Cavanaugh, along with her progressive colleague Megan Hunt, has been one of the public faces of the 12-week filibuster that blocked nearly all legislation so far this session.
Ms Cavanaugh describes trans healthcare ban as a step towards "genocide" Independent Earlier this month it aimed to "bring 'transgender' out of existence".
Nevertheless, she was among the senators who stood in front of Ms. Slama to block her from seeing it, and later tweeted "please delete this" at Hummel.
Another Republican senator, Lou Ann Linehan, complained that the filibuster and prolonged debate caused her to miss her grandson's preschool graduation ceremony.
Ms. Hunt, who has a trans child, shot back: "If you want to see your grandchild graduate from preschool, you should make it happen. Instead, you are here to drag out this session because you will not come out with this bill hurting my son. You hate him more than you love your family.
Hummel defended his decision to tweet the photo, saying: "There is no more public space than the floor [the] Nebraska Legislature.