Representative Matt Gaetz of Florida questioned Treasury Secretary Janet Yellen's statement on Tuesday about the United States' deadline for debt default.
Democrats and Republicans in Congress are currently engaged in a heated back-and-forth over raising the US debt ceiling, which the House Republican majority has refused to support, along with spending-cut agreements from Democrats and President Joe Biden. Reaching the debt limit would result in the country defaulting on its debt for the first time in history, which experts say would do catastrophic damage to the global economy.
Biden has said that, while he is willing to negotiate spending cuts, he will not allow the debt ceiling to be used as a bargaining tool. Republicans have reportedly ruled out cuts to defense spending, Social Security and Medicare, as well as raising taxes for the wealthy.
Democrats claimed these parameters would then leave things like food, housing and education programs on the chopping block. Republicans protested that the cuts were needed to rein in Democrats' recent spending.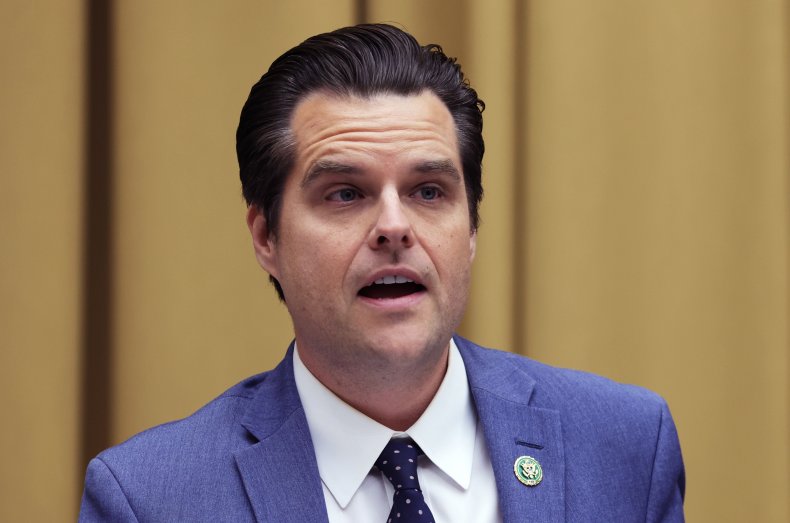 Yellen has said the deadline for the US to avoid a default crisis is likely to be June 1.
"With an additional week of information now available, I am writing to note that we anticipate that it is highly likely that if Congress does not act to raise or suspend the debt ceiling, the Treasury Government will not be able to meet all of its obligations as early as June, and potentially as early as June 1," Yellen wrote in a letter to Congress on Monday.
Gaetz, a Republican representing Florida's first congressional district, spoke to reporters Tuesday, pushing back against Yellen's warnings, saying she needed to "show her work" on how to set a deadline.
"I don't believe the first of the month is a real deadline," Gaetz said. "Like, I don't understand why we're not showing our work to Janet Yellen."
While Yellen has referred to the beginning of June as a "hard deadline" in some statements, she has consistently raised June 1 as only a possibility. The Treasury Secretary previously said a deadline until the end of tax season would not be clear.
In response to an inquiry, a spokesman for Gaetz instructed newsweek To a recent tweet by Congress.
Gaetz wrote, "Invite Yellen to prove to her committee that June 1 is indeed the 'default' deadline." "We shouldn't just take our word on it after calling out: [inflation, interest rates, and bank failures], I think his ouija board might be broken."
Gaetz previously said he would not support raising the debt limit without adding work requirements for Americans receiving some form of public assistance. Current requirements for SNAP benefits ask recipients to work about 20 hours a week, with congressmen arguing that this should be increased to 30.
newsweek The Press Office of the US Treasury has been contacted via email for comment.