California Gov. Gavin Newsom's lockdown-heavy approach to the COVID-19 pandemic is facing new scrutiny as he finds an unlikely ally in former President Donald Trump in attacking Florida Gov. Ron DeSantis' handling of the pandemic ahead of the 2024 presidential election.
Trump recently dubbed DeSantis the "lockdown governor," even though the Florida governor's restrictions were among the least heavy-handed – and short-lived – in the country. During the pandemic, DeSantis faced heavy criticism, including from Trump's own administration, for not imposing the kind of restrictions that California and other states did. 
Newsom, whose name has been floated as a possible Democrat alternative to President Biden, and who has joined in on Trump's attacks on DeSantis' handling of the pandemic, was the first governor to lock down his state and the last to reopen schools.
Newsom recently mocked DeSantis' "freedom"-based approach to the pandemic as "BS," pointing to Florida's death rate.
Florida "had fifty-eight percent higher per capita death rates under COVID. That's freedom? Fifty-eight percent higher per capita death rates?" Newsom said in an April 12 interview.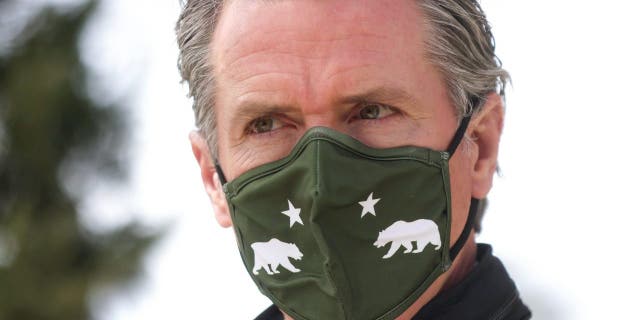 TRUMP, NEWSOM ECHO EACH OTHER'S ATTACKS IN EFFORT TO TAKE DOWN DESANTIS
While Florida's COVID-19 death rate is indeed higher than California's, its rate is still on par with the lockdown-heaviest states like New Jersey, Michigan and New York. Additionally, Florida's elderly population, the heaviest hit population from the pandemic, makes up 21% of the Sunshine State, making it the oldest state in the nation second only to Maine, compared to young California with only 15% of its population being 65 and older.
In fact, a newly released study revealed that California and Florida have had roughly equal health outcomes, despite their wildly different approaches, but California suffered far worse economic and education outcomes than Florida due to its prolonged lockdowns.
But Trump clearly sees a political advantage in aligning with Newsom against DeSantis, and while Trump and Newsom continue to hammer the Florida governor, they have refrained from targeting each other, even when given the opportunity to do so.
Trump hasn't criticized Newsom's pandemic response either, even though Newsom was the first governor in the country to issue a stay-at home order.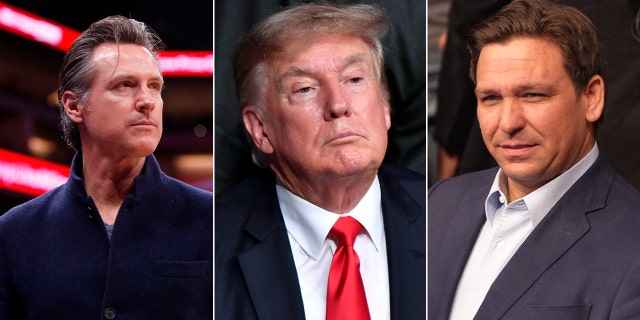 Trump's own lockdown guidance even predated DeSantis' first and only stay-at-home order in Florida. On March 16, 2020, then-President Trump and his White House Coronavirus Task Force leader, Dr. Anthony Fauci, unveiled their "15 Days to Slow the Spread" plan, which recommended that governors shut down schools, restaurants and other public places. Newsom closed down his state three days later, while DeSantis waited more than two weeks to issue his on April 1, 2020, which lasted a total of 30 days and never returned.
While DeSantis took a more libertarian approach to the pandemic, Newsom repeatedly shut down businesses in his state throughout 2020 and 2021, and he used his authority to make sure all of California's local governments had restrictions in place – even threatening to cut funding to some cities that refused to enforce them.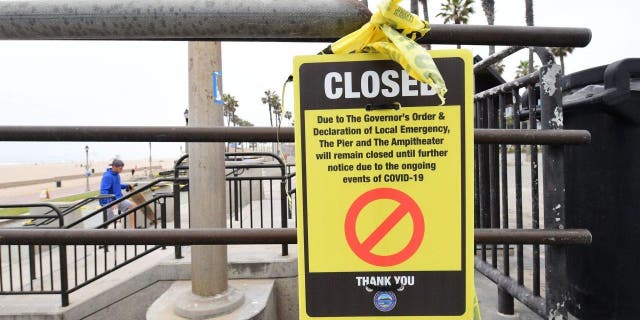 DESANTIS RACKS UP WINS WHILE TRUMP, POTENTIAL 2024 OPPONENTS TAKE SWIPES AT FLORIDA GOVERNOR
In April 2020, Newsom said he saw an "opportunity" to use the COVID-19 crisis to usher in new progressive policies in his state and elsewhere in the country.
"Absolutely, we see this as an opportunity to reshape the way we do business and how we govern," he said at the time.
"That shouldn't put shivers up the spines of one party or the other," he said. "I think it's an opportunity anew for both parties to come together and meet this moment and really start to think more systemically, not situationally, not just about getting out of this moment."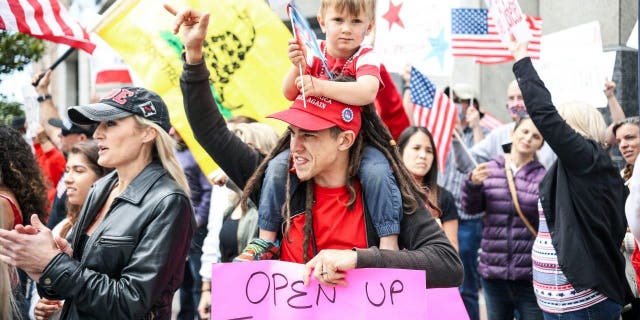 Newsom didn't lift his ban on essential non-emergency surgeries, such as heart valve replacements and tumor removals, until more than a month after his initial lockdown order. His ban on elective surgeries like dental extractions and mole removals was lifted on April 26, 2020, and on April 30, 2020, he released a list of approved, social-distanced outdoor activities, which included "exploring rock pools," "kicking a soccer ball (not in groups)," and going outside to "wash the car" or "watch the sunrise."
Churches in Newsom's state remained completely closed until more than two months after the initial order. They briefly reopened on May 25, 2020, when the governor allowed them to operate at 25% capacity, but he still banned singing and chanting indoors to reduce the spread of saliva droplets carrying the virus.
Anti-lockdown protests broke out in California in early May 2020, which led to hundreds of arrests. Then later that month, major protests swept the country over the Minneapolis police death of George Floyd. Newsom defended the Floyd protesters at the time, saying, "To those who want to express themselves. … God bless you. Keep doing it. Your rage is real."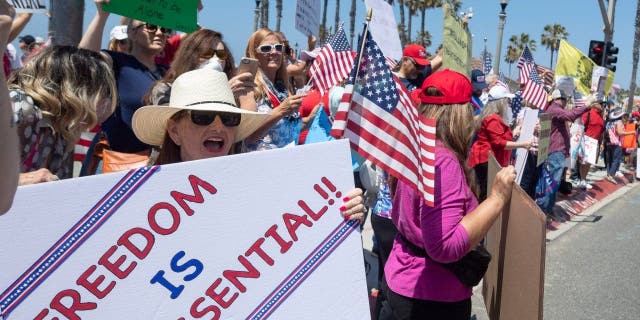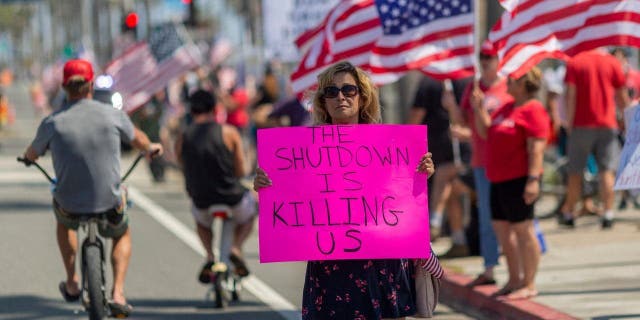 On June 18, 2020, Newsom issued a statewide mask mandate for anyone in public older than 2, and he was one of the last governors to lift it.
In August 2020, Newsom started releasing thousands of violent criminals early, including those doing time for murder, in an attempt to reduce to spread of COVID-19 within the prison system.
It was revealed later that November that California's Employment Development Department, overwhelmed by the uptick in unemployment claims due to the pandemic, paid out at least $140 million in taxpayer funds to prison inmates resulting from 35,000 fraudulent claims in one of the biggest scams in the state's history.
Around the same time, Newsom announced $600 million in taxpayer funds would be spent on hotel rooms for homeless people in an effort to combat COVID-19.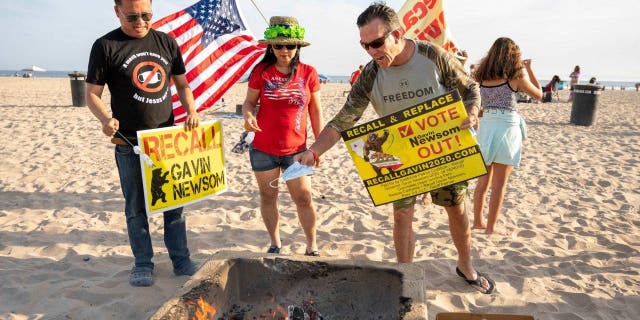 On July 13, 2020, Newsom backtracked on reopening plans he had previously promised and again shut down churches, gyms, restaurants and museums due to an uptick in cases. 
That October, Newsom outraged parents after he sent his four kids back to in-person learning at a private school in Sacramento County, while public schools in the county remained closed.
Newsom, whose candidacy and recall fight was largely funded by teachers unions, had previously ordered all schools, including private, to close on April 1, 2020, for the rest of the school year. He was later sued over the private school closures, and in a win for school choice advocates more than a year later, the U.S. 9th Circuit Court of Appeals ruled in July 2021 that the governor violated the fundamental "right of parents to control their children's education and to choose their children's educational forum."
On Nov. 6, 2020, Newsom was infamously photographed mingling without a mask with California Medical Association officials at the ritzy French Laundry restaurant in Napa, violating a number of his own COVID-19 restrictions.
Newsom later admitted that going to the restaurant was a "bad mistake" on the same day he banned indoor dining in 41 of the state's 58 counties, which includes more than 94% of the state's population.  
The controversy came just weeks after Newsom's former family member, Rep. Nancy Pelosi, D-Calif., was caught on camera breaking COVID-19 restrictions by getting her hair done at a shuttered hair salon in San Francisco.
In November 2020, Newsom started mulling a statewide curfew, citing studies from various countries, including Saudi Arabia. On November 19, 2020, he ordered an overnight curfew for the majority of the state that stayed in place for more than two months.
Roughly two weeks after the curfew mandate, Newsom issued a new stay-at-home order banning non-essential business and travel, warning that "we need to do everything we can to stem the tide."
Just one month later, on Jan. 25, 2021, the governor lifted the lockdown order as the Republican-led effort to recall him gained momentum. He said at the time that it was "complete utter nonsense" to suggest politics drove his decision to lift the lockdown.
On February 7, 2021, the Supreme Court lifted Newsom's ban on indoor church services, forcing him to issue revised guidelines, which still included a mask mandate, a capacity limit and a singing ban.
Earlier this month, the Calvary Chapel church in San Jose was fined $1.2 million for violating the mask mandate between November 2020 and June 2021.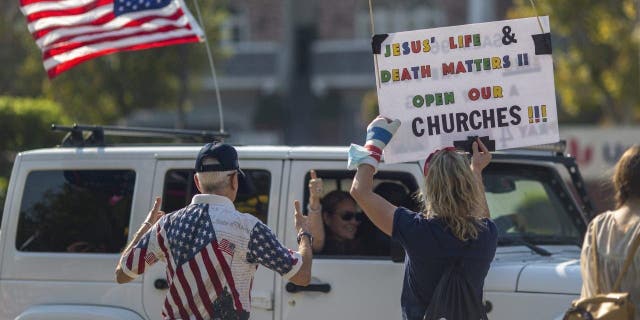 Newsom sparked an uproar again a month later when he and comedian George Lopez filmed a TikTok video inside a Fresno restaurant that was closed at the time due to his restrictions.
At the time of Newsom's video, California remained the only state in the country to still have an indoor dining ban in place.
The governor later defended himself for participating in the video because he didn't eat at the restaurant.
In July 2021, Newsom mandated that all state workers and health care workers be vaccinated. He also renewed the state's universal mask mandate in schools, contradicting guidance by the Centers for Disease Control and Prevention (CDC) at the time that said vaccinated staff and students didn't need masks for protection.
The next month, Newsom mandated that all school staff either get vaccinated or undergo weekly COVID-19 testing, and that anyone who attend an indoor event with 1,000 or more people be required to show proof of vaccination or a recent negative COVID-19 test.
In September 2021, DeSantis was threatening heavy fines for Florida businesses who imposed vaccine mandates and vaccine passports, and his ban on mask mandates in schools was upheld in court. Meanwhile, Newsom won a recall election that Sept. 14 after repeatedly warning that a Republican governor would use the DeSantis model on the pandemic and take California right over "the COVID cliff."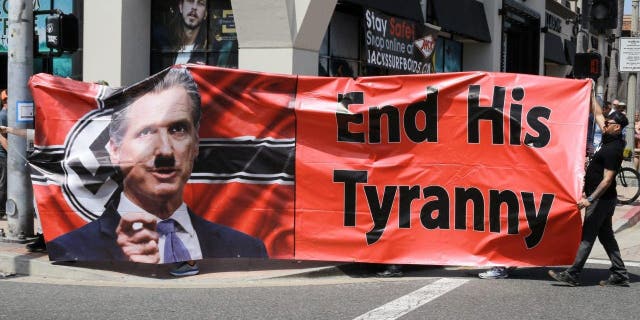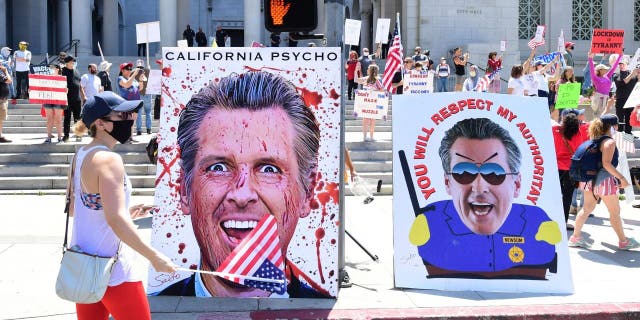 On Oct. 1, 2021, Newsom announced a vaccine mandate for all K-12 students in public and private school, a first of its kind in the country that actually never came to be. 
"As you know we have not been shy. We have continued to lean in," Newsom said at the time. "We hope this encourages folks to get vaccinated."
The mandate was later delayed pending FDA approval, and it ended this February along with the expiration of California's state of emergency without ever going into effect.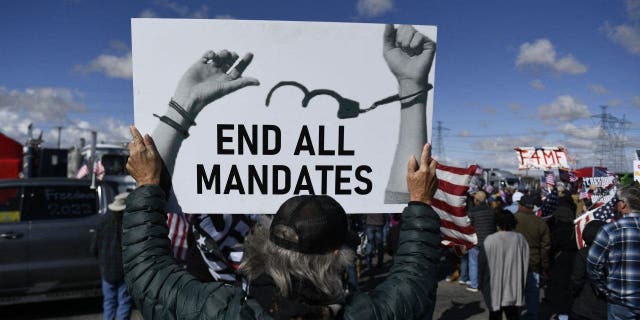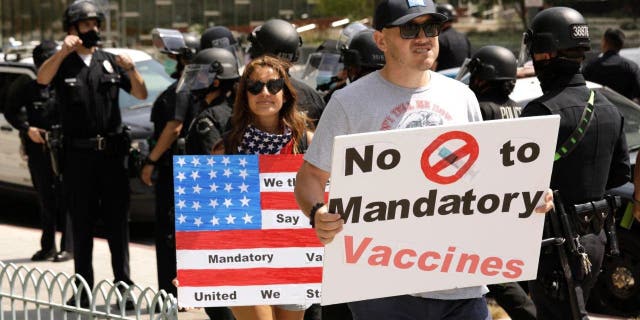 TRUMP ATTACKS DESANTIS 4 TIMES MORE THAN BIDEN, AS 2024 RACE HEATS UP
In December 2021, Newsom issued a new universal indoor mask mandate for everyone older than 2 and mandated booster shots for health care workers.
The next month, in January 2022, Newsom broke his own mask rules again by partying with San Francisco Mayor London Breed and then-Los Angeles Mayor Eric Garcetti without a mask at a 49ers-Rams game at SoFi Stadium, which also had its own mask mandate.
Newsom defended himself again, saying he only took his mask off briefly for picture taking.
In May 2022, California's department of finance announced that its population had declined for a second year in a row. That same month, Newsom announced he tested positive for COVID-19, despite being fully vaccinated and receiving two boosters.
Several months later, Fox News Digital exclusively reported that Kenneth and Judith Siebel, Newsom's in-laws and longtime California residents, are DeSantis donors and became Florida residents in 2020 after purchasing a $3.3 million Naples home.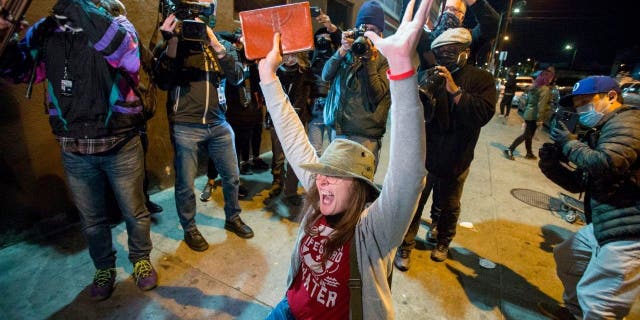 On Oct. 6, 2022, Newsom signed a bill punishing doctors who espouse alleged "misinformation or disinformation" related to COVID-19 that is not in line with the mainstream. A federal judge blocked the law in January following a pair of lawsuits challenging it on free speech grounds.
California's COVID-19 state of emergency officially ended on Feb. 28 of this year, nearly three years after his first of many lockdowns.
Newsom's orders were carried out differently across the state. In Los Angeles, Garcetti authorized the Los Angeles Department of Water and Power to shut off utilities to homes that were found to have hosted private parties. In December 2020, Los Angeles County deputies arrested nearly 158 people at a Palmdale house party that violated state coronavirus orders.
Many businesses in the state that refused to shut down were criminally charged, and people who refused to follow stay-at-home orders were given hefty fines and threatened with jail time. Local officials revoked business licenses of businesses found violating Newsom's orders, and many of those businesses had to permanently close.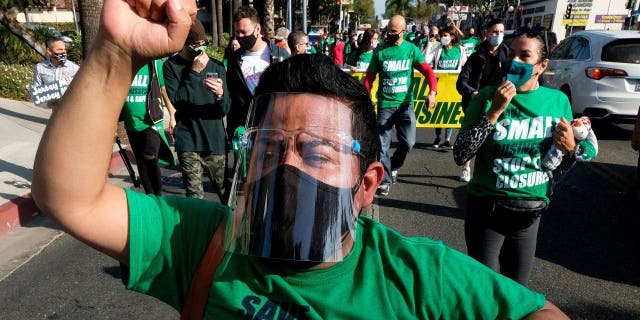 The Committee to Unleash Prosperity released a study last year that compared state performance on metrics including the economy, education, and mortality from the virus and examined how states and their respective governments handled the pandemic response.
The study found that California, New York, New Jersey and Illinois were among the worst in dealing with the pandemic, performing "poorly on every measure."
Those states "had high age-adjusted death rates; they had high unemployment and significant GDP losses, and they kept their schools shut down much longer than almost all other states," the report said.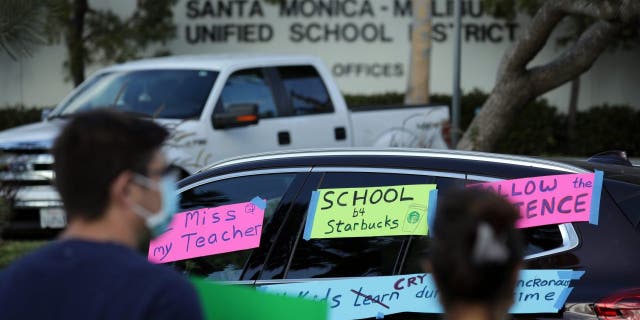 In February, the Paragon Health Institute study released a study saying virtually the same, that more severe lockdowns did not significantly improve health outcomes but led to worse economic and education outcomes in states like California. 
"States with more stringent lockdowns, though, had much worse economic outcomes (increased unemployment and decreased GDP) and much worse education outcomes (less in-person schooling)," the study said. "Other studies show severe learning deficits associated with the loss of in-person education, and that the economic and educational impacts of lockdowns disproportionately affected lower-income families."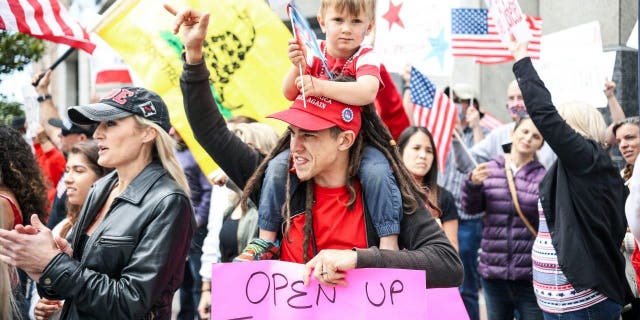 For the first time in years, California is facing a $22.5-billion projected budget deficit after boasting about a robust surplus less than a year ago. This, despite being the No. 1 state in the country for highest income taxes, sales taxes and having the second-highest gasoline tax in the nation, second only to Pennsylvania.
Newsom outraged Republicans and Democrats alike after he proposed slashing his budget commitment for foster care services by two-thirds in order to help make up for the budget shortfall.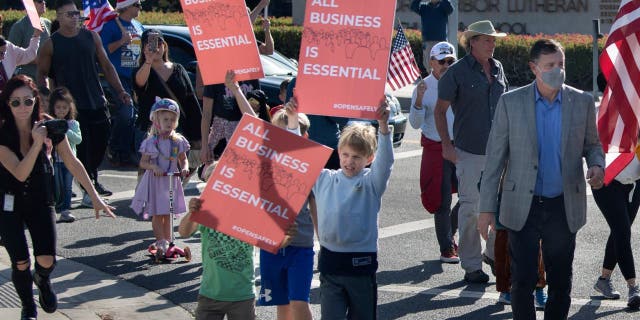 California is also No. 9 in the nation for jobless claims, tied with Michigan with a 4.3% unemployment rate, compared to Florida's 2.6%.
California's homeless crisis has also severely worsened since the pandemic, despite Newsom spending billions to combat it. The state holds more than 30% of the nation's homeless population, and that number has risen about 6% since 2020, compared to just 0.4% in the rest of the country, according to the Public Policy Institute of California.
CLICK HERE TO GET THE FOX NEWS APP
Still, Newsom toured red states like Florida, Alabama, Arkansas, and Mississippi this month to tout his record as the 2024 presidential election heats up, and his eyes remain fixed on DeSantis.
Before giving a speech ripping DeSantis at the New College of Florida, Newsom blasted the Florida governor as "authoritarian."
"The problem in our country right now: authoritarian leaders who are so hellbent on gaining power and keeping it by whatever means necessary," Newsom said in a video. 
DeSantis' office responded by saying "stunts from political opponents don't matter and have no effect."