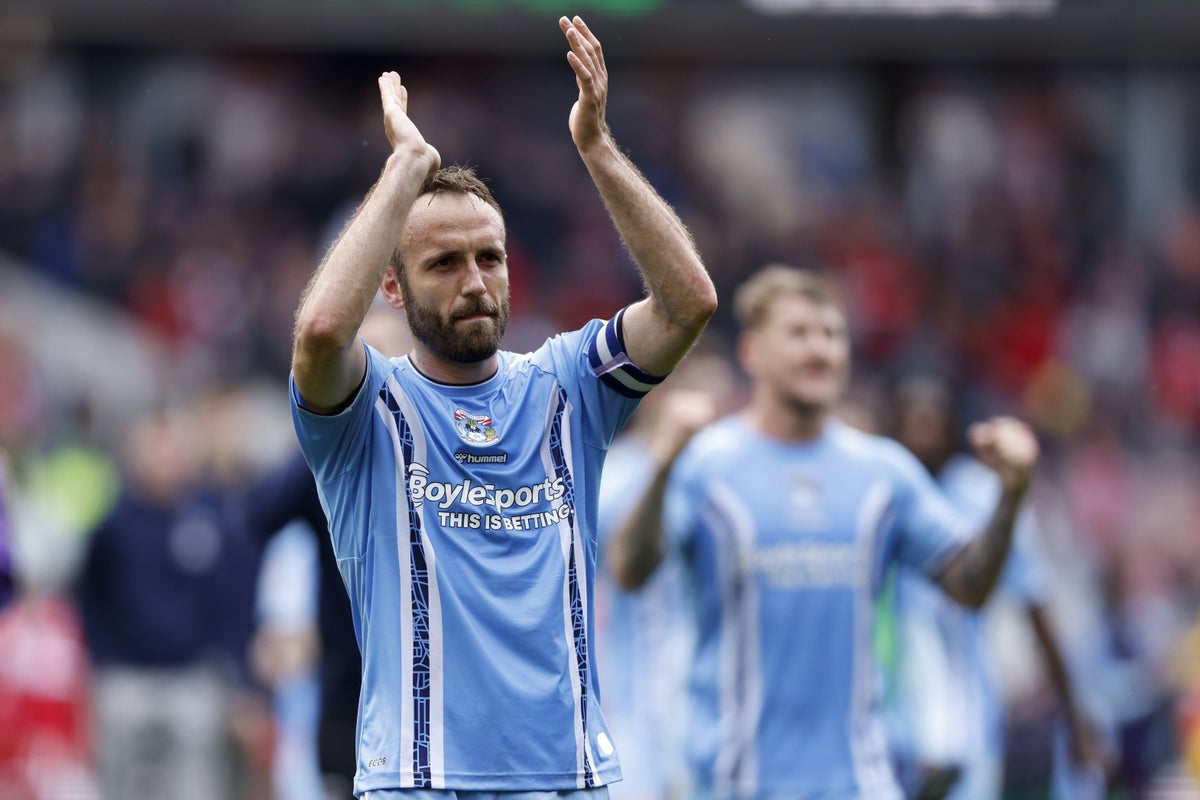 Liam Kelly insists "Sleeping Giant" Coventry must avoid letting the chance of a Wembley play-off final ruin their Premier League dreams.
Coventry, one of the Premier League's founder members in 1992, will end a 22-year exile from the top flight if they beat Luton in Saturday's Sky Bet Championship play-off final.
Victory will mark a remarkable journey for Coventry and Kelly as the veteran midfielder was part of the Sky Blues team that beat Exeter in the League Two play-off final at Wembley in 2018.
Captain Kelly said, "The focus around this game is (more than in 2018) but on a personal level it's the same for me."
"We expected to be promoted from League Two and League One, but at the start of the season I don't think anyone expected us to be in this position.
"When I came here I don't think many people imagined where the club would be now. It's been a great journey.
"It's a big club and it's been a sleeping giant for a while, but we've seen the support grow over the years."
Coventry took 42,500 fans to Wembley after beating Oxford to win the EFL Trophy in 2017.
This time the Sky Blues sold their allotment of 36,237 tickets for a game commemorating Luton's rise from non-league football over the past decade.
Luton ended the campaign two places above and 10 points ahead of Mark Robins' Coventry, but had two games drawn in the regular season.
Kelly said: "Luton finished third and are one of the best teams in the Championship.
"It's going to be a great day, but at the same time you can't give your best to the occasion.
"You have to realize what is at stake and use that energy of the crowd to achieve what we want.
"I remember it (2018 play-off final) went really quick, but you have to go out and stay at it rather than be afraid of it.
"We just have to go with the momentum and not overthink it, feel where our form has taken us and give it our all to win this game," he said.
"Sometimes the best way to get into the play-offs is to creep into it over the last few weeks, which we've managed to do, and we can take confidence from that."
Kelly has made 160 appearances for Coventry since breaking out of the English Football League in 2017 as a Leyton Orient player.
But the 33-year-old could be playing his last game at Wembley as he is nearing the end of his contract and faces an uncertain future.
He said, 'I will not pay much attention to it. I just want to focus on this final and we can sort everything out at the end of the season.
"I just want to wear that winner's medal around my neck."